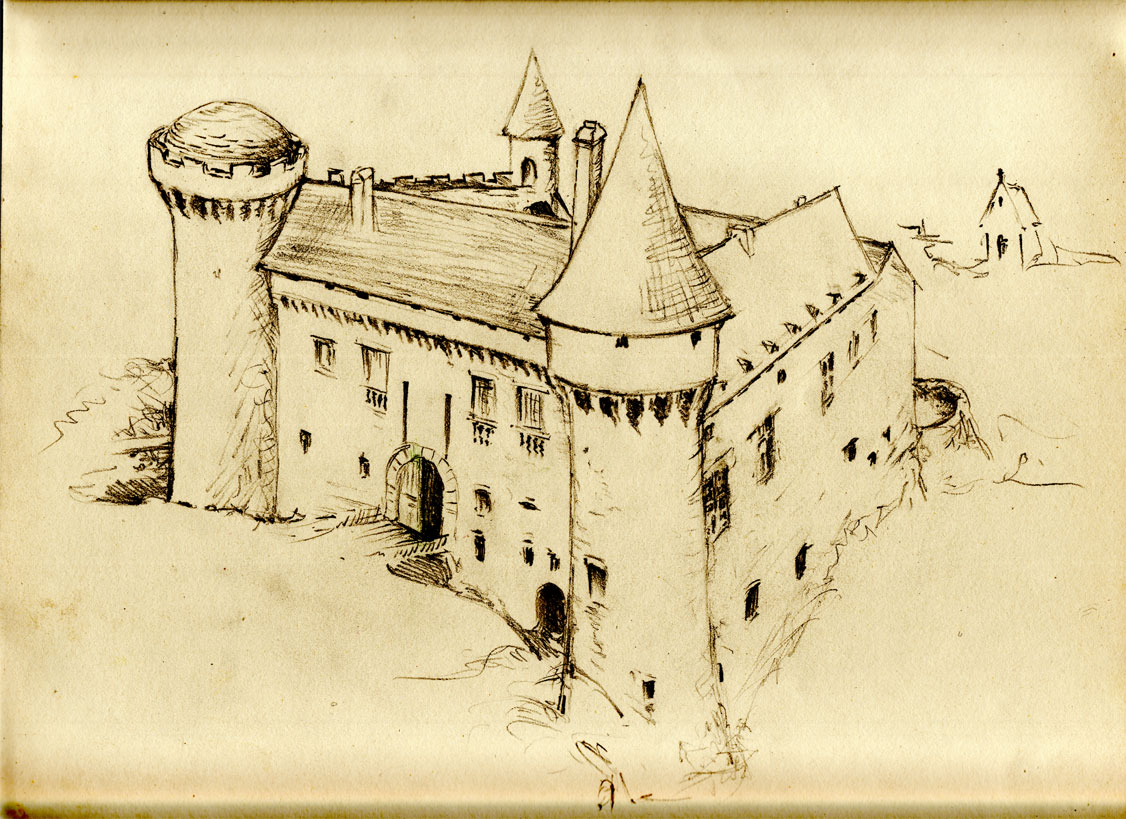 Coulonges, medieval fortress ever on the alert
Historical records of the Périgord between the fifth and tenth centuries, the Early Middle Ages, are few and far between. Just recently some have been found, dating from the eleventh century. Bernard Fournioux, researcher, archaeologist and medievalist of distinction, has been studying for many years all the information available concerning the second period of the Middle Ages in France, between the eleventh and the fifteenth centuries. With his ability to read, understand and also identify the original documents, he has made an extensive study of the defensive network which the Château de Coulonges was part of; this system was the only one of its kind in Aquitaine and it was built to protect the whole of the châtellenie de Montignac prior to and throughout the Hundred Years' War:
« Un dispositif de protection territoriale et de défense des populations rurales en Périgord au XIIIe siècle » publié dans Archéologie Médiévale, C.N.R.S., t. XX, 1990.
This study is easy reading – quite a feat when you consider that nothing, absolutely nothing in it is a figment of the writer's imagination! On the www.albuga.info webzine Bernard Fournioux gave us permission to reveal a whole page of his findings concerning the châtellenie de Montignac in the Middle Ages so you can get a clear picture of what life was like for the knights and the Lord of Montignac. In those days everyone was constantly on the alert, well drilled, well prepared for enemy incursions for it must not be forgotten that for three centuries the Périgord was the theatre of fierce rivalry between Kings of France and Kings of England.
After the heavy restoration work carried out over the past ten years by the Bâtiments de France, the Château de Coulonges is open to the public this summer between July 1 and August 10, every day from 12 a.m. to 7 p.m. – giving you the occasion to discover a magnificent castle which combines the sturdiness of the medieval arsenal with the splendour of the baronial residence which it was turned into in the sixteenth and seventeenth centuries. With the wars behind them, the time had come for the refinements of luxury, right down to the smallest detail of everyday life. This subtle combination is what makes the place so utterly charming. The Château de Coulonges nestles in the heart of the little Laurence valley, 3 kilometres from Montignac-sur-Vézère as the crow flies.
Included in I.S.M.H. (Listed Buildings Document) December 6, 1948